From writing a long list of items in a piece of scrambled paper and keying item codes to generate the list in printed form or ordering items through mobile phones, the way retailers transact with customers has changed drastically over the last couple of decades.
Customer handling has transformed drastically in food industry, especially in retail food courts, restaurants, hotels and refreshment shops. Using powerful hand-held POS devices which can be referred as mobile POS or tablet POS, more number of food handlers and restaurants are switching over to smart, elegant and handy mobile devices as they provide them with reliability, mobility and flexibility when compared to immobile, less efficient and bulky POS systems.
Switch to a Tablet-Based POS
Though Tablet POS using Android and Window applications are doing the rounds, iPad Point of sale is the most widely used mobile payment solution among restaurants and its popularity continues to break new grounds.
According to a recent study by a popular retail food magazine, 'restaurant owners prefer mobile POS/tablet POS for four major reasons – convenience, customer service, cost and operational efficiency.' Providing better customer service always remains the top priority for hoteliers who have no qualms in spending a fraction of their income on improvised POS system for better customer service and business automation.
Advantages of using Mobile POS
There are a lot of advantages in using Mobile POS instead of the conventional POS cash registers. A simple iPAD or any tablet POS can be mounted in the front counter but employees can take the system in hand the move around the restaurants to serve customers. These days, more numbers of tablet POS can be integrated into a central POS system, so that waiters can simultaneously operate their hand-held Mobile POS to take orders, bill customers, send instructions to kitchen, command printer to print bills, check inventory position, attend customer queries, check price list, et al.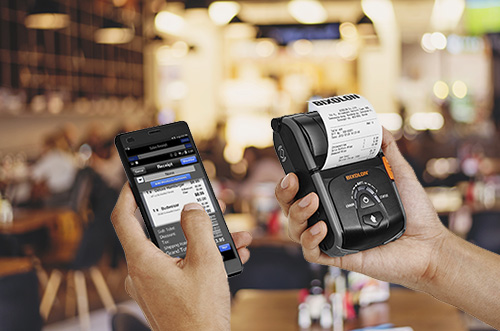 Restaurant owners and managers have more privileges and applications than floor executives as they can look at reports on sales, inventory, CRM, payroll, vendor payments, staff management, taxation, finances and accounts.
Customers can also enjoy the benefit of mobile POS when they dine at a restaurant. Tablet POS kept as a kiosk in restaurants can help customers check price list, menu details, availability, list of new food items, nutritional values, cost of a particular menu, etc. Diners can feel relaxed and have positive dining experience as they know that table staff are always available to attend them and provide the information they need quickly.
Scalability and cost
Scalability and cost should be considered while switching to mobile POS. Emerging restaurants and those who are new to food business may find it hard to predict growth over a period of time accurately. Their efforts can bear fruits overnight or take a few years to grow and establish. Hence, it's hard to allocate funds for infrastructure needs.
However, a cloud-based mobile POS system may cost considerably less than the traditional electronic cash register as the later may require a host of hardware components and complicated wiring and more space. Where as in cloud POS, you require a tablet POS with billing application software and reliable internet connection. You need to pay a monthly subscription as cloud charges. So planning for growth is cost-effective and easier.
POS apps are developed to be scalable so that it can integrate data in real time from other stores and branches with the main system.
-K Ramanathan ram@justransact.com